Welcome!! =)
Looking for a gift for a very special person or yourself? These are my little creations, hope that you will find something you like here.
Thursday, October 8, 2009
_**_


Rosy brooch
$6




Rosy earring
$6

Labels: earrings

9:40 PM



_*pendant*_


Serenity
$5

Labels: pendants

9:38 PM



_*Wedding/party favours*_


Trying to get something for your guests/friends as a door gift?How about getting these keychains? It's pretty, simple and cheap.

From Left to Right:
1)purely Your
2)flower of the valley
3)golden compass
4)Sassy girl

Selling at $2.50 each. For bulk, it will be $2 or less (mininal 10 orders). Please contact me at chunchun87@gmail.com 3 months in advances for bulk orders.

Labels: pendants

9:14 PM



Tuesday, June 23, 2009
_**_
Bow and tie
$8
Petal thots brooch
$10
Labels: pendants
9:10 PM
_**_
Laughing gas

$6
Funky


rainbow fun!



$12
made of swavorski crystals.


Take a bow



$8
Pretty and girly


japanese girl



$18
elegant

Labels: earrings

8:55 PM



_*Bracelet*_
SOLD
secret garden bracelet
SOLD

$8
the whole bracelet is made from wire(including the connections)

glowing ball



$6
The beads will glow in sunlight.


Ariel's pearl




$10
made of fresh water pearls

SOLD My lucky charm SOLD



$10
You can add on more charms to the bracelet

Watch out!



$25
made of elastic band, fresh water pearls(dyed) and swavorski crystals.

Labels: rings

8:49 PM



Friday, November 28, 2008

_*Christmas- a time of giving and sharing*_

The most exciting festival is finally here...At Chun Ai, we have our own way of celebrating Christmas!

1.A free hand phone accessory with ANY purchase
2.10% off with a minimal purchase of $10!

...So hurry!

12:15 AM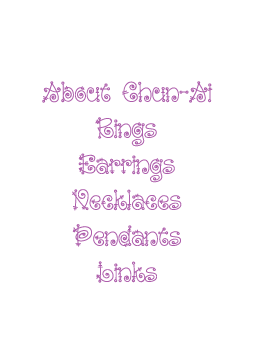 ~*Link Us *~





~* Know Your Ring Size *~

Ring Size

~* Sold Items *~

Click here to see the list of sold-out items

~* Notice *~

If any body have an school event/bazzar that allows outside vendors,inform me at chunchun87@gmail.com Thanks!

~*Newsletter *~

* Advertisement *

gentle reminder: please do not post in this textbox, if YOU DO NOT HAVE A TEXT BOX FOR OTHERS TO ADVERTISE ON. thank you!




* Ur Views/Enquries *

Please DO NOT post your advert here. Any advert posted here will be BANNED and DELETED. You can also send your enquries to chunchun87@gmail.com




* My thank you list! *
Craft hub instructor for teaching me the basic skills
Siti, Daphne, Nicole, Suhaida, Diana
Erika (thanks so much for the nice web layout!)
My family members(love them so much)

This work is licensed under a Creative Commons Attribution-No Derivative Works 3.0 Unported License.